[We are three freshman in the GEL program that worked together for this interview: Reina, Ayako, and Kanami.]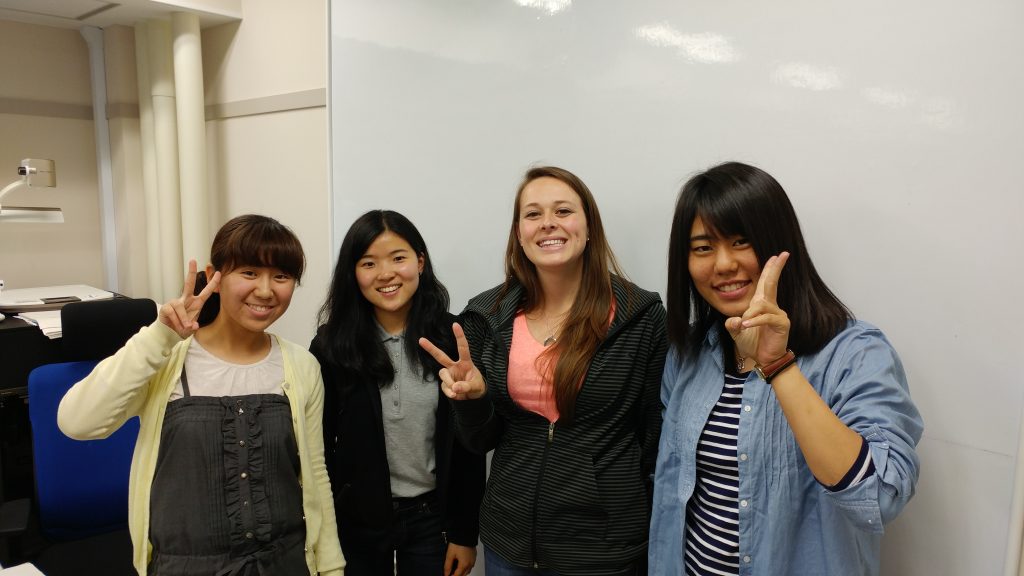 We interviewed Brianna. She stayed in Japan was for 4 weeks. She is from Iowa state in USA, and she is a student as ISU (Illinois State University). She chose to come to HUE Asahikawa in Japan for studying abroad, because she wanted to go to a place different from anywhere she knows. Moreover, she wanted to learn culture and education. This time was both the first time for her to come to Japan and for her to study abroad.
Before she came to Japan, she worried about language issues, Internet access, and her host family. Then, when she came to Japan, she faced problems with both the language and the Internet. She couldn't be able to communicating with HUE Asahikawa students, and couldn't talk to her mother through the Internet for a few weeks.
While here at HUE Asahikawa, She took 3 Japanese classes here, and she found them helpful. She said that wants to learn more when she come to back. On a scale of 1 to 10 for language being a barrier, she had expected language to be a 9 before she came. But she felt it was only a 5 after she got here!
When she did not have classes, she did homework and spent a lot of time with her host family or friends in Japan. She loves her host family, so she misses them and that she won't get to see them again is the worst part of studying abroad.
She also studied about culture and education while at HUE Asahikawa. Especially about culture, she learned that Japanese culture has formality and a lot of respect. In terms of traditional Japanese culture, she was able to experience kendo, ikebana flower arrangement, and tea ceremony. She described her experience to us as "adventure" in one word. She tried to communicate in Japanese, then she felt amazing. However, as the days went by, in college, host family, and even if in police office, she felt the kindness of people any time!
As students who want to study abroad and hang out with international students, she gave us some advice. She explained that Americans would be happy to talk with us. Therefore, when studying abroad, the most important things are that we should try to speak in English and not be shy all the time.